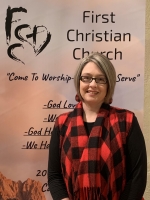 Worship Leader
618-521-3838
Dawn was born and raised in Carterville, Illinois, and has been a member of First Christian Church since 1982.  Since music is her passion, she was excited to take over the worship leader position in 2012.  Dawn also works at John A. Logan College in the Purchasing Department.  She and her husband Brandon, along with their daughter Kaitlyn and son Kameron, reside in Carterville.  Dawn loves spending her free time with her family, traveling, and reading.
Favorite Bible Verse… Jeremiah 29:11
Favorite Book… It's too hard to pick a favorite book, but my favorite author is Karen Kingsbury.
Favorite Movie… "The Proposal"
Favorite Sports Team… The St. Louis Cardinals
Favorite Food… Mexican
Favorite Quote… "When life gives you lemons, make lemonade."